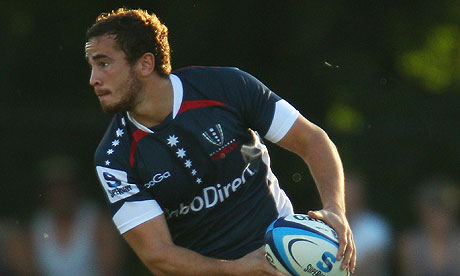 I'm sure many of us are still speculating over why England had such a terrible World Cup campaign, why their conduct off the field was so bad and whether Martin Johnson should step down as England boss. However, in the midst of this debate, one man is left wondering if he will ever play for England again. That man is Danny Cipriani.
The Melbourne Rebels fly-half was signed in 2010 from his previous side, London Wasps. He made his test debut for England against Wales at Twickenham in February 2008. He made his last England appearance at Twickenham against New Zealand in November 2008, just 9 months after his first ever start. Since then he has been out of the spotlight, avoiding the public eye...
Some believe he should have been in New Zealand, representing his nation at the Rugby World Cup. But when the England squad returned home after a terrible World Cup campaign, the 23 year old was not far away. He would have been in Guildford, training for a new season with the Melbourne Rebels. Cipriani will probably look to show of his playing ability alongside the likes of Sonny Bill Williams and Bryan Habana at Twickenham in November to represent what looks to be a formidable Barbarians side.
Cipriani has one more season left in Melbourne until his contract runs out. During his time down under, Cipriani has played with many big rugby names, but this year he will play alongside two of Australia's young stars - James O'Connor and Kurtley Beale. He has gained much needed experience, developing as a rugby player and rugby mind in Australia. His conditioning guru, who has worked with him since he was 17, said "He's desperate to play for England."
Nobody is doubting his ability as a player but the reason Martin Johnson probably doesn't select him is because of his location. Australia is a fairly inconvenient place to be playing if you are looking to play for England, on the other side of the world. I haven't come to a definite conclusion about this "rugby rogue" and I'm sure many of you haven't either. Well, now is your time to make a decision!
Comment your thoughts below.